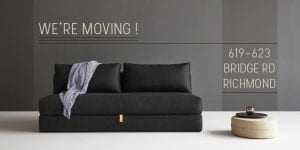 Innovation Living Hawthorn is Moving!  
Innovation Living is pleased to announce we're moving our Hawthorn showroom to a centrally-located Richmond showroom on Bridge Road. We'll be taking over the space that is currently occupied by our sister company, Furniture Gallery Richmond, so we can accommodate our ever-growing range of stylish sofas, sofa beds and accessories.
Our main mission at Innovation Living is to bring stylish Scandinavian furniture direct to our Melbourne clientele. Whether you're after a double sofa bed, Danish day beds, or even designer cushions, make sure you come and check us out in our great new showroom!
By moving to this bigger, super stylish Richmond location, we'll be returning to our Melbourne roots.
Innovation Living was founded in 1971 in Denmark, but didn't open in Melbourne until 2011, after the brand had already taken both Denmark and America by storm. Our first Australian store was actually located in Richmond, until we made the move to our current Hawthorn location.
However, as our sofa beds and quality, Scandinavian-style furniture gets more popular, we're in dire need of a bigger showroom, so we can accommodate all of our new pieces, as well as our growing team of staff and customers. We will also be taking with us our beautiful La Marzocco coffee machine to Richmond – so don't stress you can still enjoy a brew as you stroll around our new showroom.
We will be moving on the 13th June, the Tuesday after Queen's Birthday. Our hawthorn showroom will be open as normal with our last day of trading on Sunday the 11th. We will have some pieces available at a great discount and our 20% off new order sale will continue through the month.
We look forward to seeing you in Richmond!