Interior Summer Style With Innovation
The weather is warming up, the days are becoming longer and afternoons are spent basking in the sun. It's summertime!
With spring-cleaning a thought of the past, it's now the perfect time to reflect and refresh your home. Adding a fresh new look to your home can make it feel like that tropical beach or Balinese villa you have been longing for.
On first thought redecorating can often leave you feeling a little lost and overwhelmed but in the long run, it will be well worth it when your friends are complimenting you on your exquisite taste.
The best way to think about redecorating is that it doesn't mean overhauling your whole house. It can be as simple as changing one piece of furniture and switching out your winter décor. Remember to always consider your budget and choose furniture that you do truly love. Versatility is key. A summer couch can easily be turned into a winter haven with a throw.
These are our top tips for styling your home this summer with Innovation's range of stylish furniture.
Add a pop!
Say goodbye to gentle pastels, as bolder, brighter and more glamorous textures are the hottest trend this summer! Colour can be used in a range of ways to revamp your room. Whether it is using complementary colours to build ambience or our personal favourite of using colour as a pop.
The Napper Daybed in Twist Rust Red is the perfect way to add a pop of colour into your lounge room this summer. Not only is the colour eye-catching but also the daybed is very functional for those afternoon naps. It comes in a small functional design and is available with four different leg options. This daybed is the perfect summer essential to spice up your home!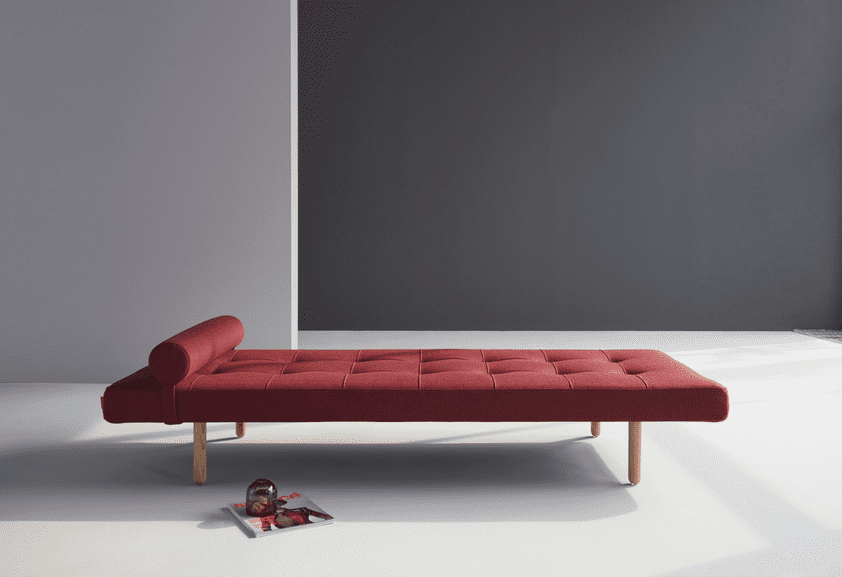 Bring the outdoors inside!
This past year has seen the biophilic design take over the interior design world. In a simple form, this type of design is all about incorporating nature and greenery into our lives. Adding shades of greens and wooden texture into your home is the easiest way to do this. The best thing about having green in your home is that it is a calming colour that will add a sense of peacefulness to any room!
The Balder Sofa Bed in the shade Twist-Dark Green with Oak Arms is the perfect way to bring outdoors inside. The beautiful colour and wooden arms will bring a sense of nature into your room. The Balder features a soft spring mattress and unique folding mechanism that provides a versatility of sleeping positions. This piece is sure to grab compliments off many!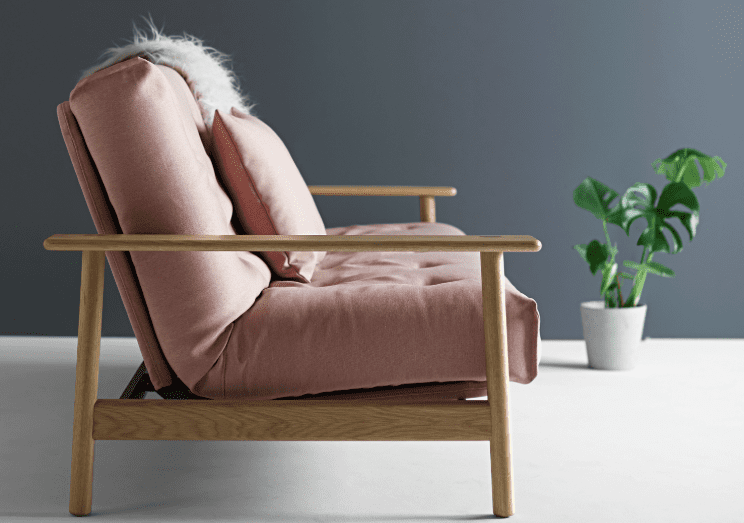 Embellish the classic!
There is nothing wrong with keeping to the classics. A nice cream simplistic piece will leave you with endless possibilities and won't ever become outdated. Embellishing is one of the most prominent trends for this summer especially when using natural tones. Adding macramé and simplistic tribal patterned cushions to your room will add a bohemian chic vibe to your space.
The Alton Dual in Chenille Oatmeal is the beginning of building a bohemian oasis in your home. Featuring sleek design lines, pocket springs and a dual top mattress that oozes comfort. The Alto Sofa can easily be converted into a full-size luxurious queen bed within seconds. This sofa is the perfect key piece for summer!
To learn more about the summer range available at Innovation Sofa Beds, Contact us today!