Interior Winter Styles with Innovation
The dreary, dull-eyed and freezing Melbourne winter is in full swing, providing a solid stream of business for all corner pubs with a nightly log fire, and giving living room blankets (usually relegated to the end of the couch) some long-overdue usage and love.
Sometimes all a room needs, if not a total revamp is the simple addition of something new, something that matches with the ever-evolving feel of the seasons, connecting your rooms and home to the outside world. This is easier said than done, and with many different styles and options to choose from, the decision can be a difficult one.
But with Innovation's range of stylish and seasonal furniture, you'll be sure to find something to suit a beautiful, elegant winter look for your home.
The Magni Queen Sofa Bed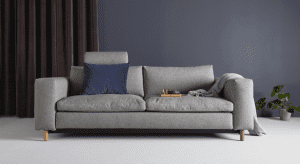 The Magni Queen is a new offering from Innovation- the desire to provide a luxurious couch that can be used as a regular sleeper has produced this stunning feat of design. The large queen bed offers the user a comfortable sitting and sleeping surface. The seat pads are filled with a feather mix, which adds extra comfort to the sofa bed. The can be removed for sleeping or used as elegant floor cushions.
The Hermod Sofa Bed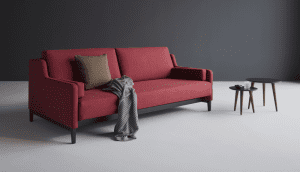 The Hermod Sofa bed is a new design from Innovation- combining classic Mid-century style with a modern twist. Featuring beautifully curved and fully upholstered arms and sublime walnut legs.
Utilising a simple and easy 'drop and roll' mechanism, the Hermod can be easily converted into a bed within seconds. This unit has Icomfort pocket springs and a fully internal steel frame and converts to a full sized queen bed.
The Hermod is absolutely perfect for a lounge room lay-about couch for a lazy, raining Saturday afternoon indoors.
The Osvald Storage Sofa Bed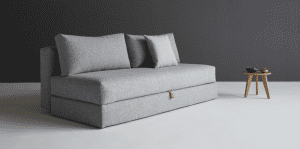 Furnish your living room with the sublime Osvald Sofa bed. Ideal for small living spaces, this functional queen-sized sofa bed is functionally designed for you to be able to not just rest or lounge, but also as an out of the way storage unit for your linens.
The mattress has a steel frame and pocket springs topped with a layer of quality foam and a layer of heavy fibre filling.
Choosing the perfect sofa bed to suit your home doesn't have to be a difficult process, and with the winter range available at Innovation Sofa beds, we're certain that you'll find something to suit your home and lifestyle.
Showroom Opening Hours
619-623 Bridge Road
Richmond
VIC 3121
PH 03 86795480
MON-SUN 10am-5pm
264 Rathdowne St
Carlton North
VIC 3054
PHONE 03 91113330
MON-SAT 10am-5pm