Special Offer – Buy Innovation's Danish Designed Sofa Beds Online Now!
At Innovation Living Melbourne, we have an extra shipment of three of our most popular Danish designed sofa bed models – and are thus offering an opportunity to buy these genuine pieces of Scandinavian furniture online, for those who can't make it in to one of our two comfortable Melbourne Showrooms.
Each of the sofa beds available online come in a select range of innovation fabrics, and are open to delivery nationwide – more specific shipping details/prices? You can ask Kirsty about this one. We have shipping prices set for Melbourne, Sydney and Brisbane but outside of that customers will have to enquire.
The Sly Double Sofa Bed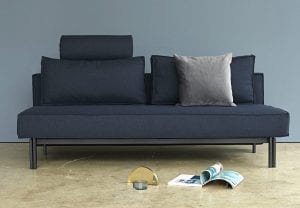 This contemporary design sofa bed is made with a solid steel frame and pocket sprung seating to ensure ultimate durability and comfort… in true Scandinavian style. The sly is the most popular innovation sofa in Denmark. A really versatile sofa, the sly folds down to a bed quickly and easily, providing a great nights sleep for two. Combining industrial styling and function, the Sly is perfect for one room living.
The Sly sofa bed is available to buy online in Mixed Dance Blue, and Mixed Dance Grey from our exclusive range of Innovation Fabrics, and available with chrome or black legs.
Measurements as sofa:
Width: 200 cm
Depth: 94 cm
Height: 68 cm
Measurements as SofaBed:
Width: 200 cm
Depth: 140 cm
Splitback King Single Sofa Bed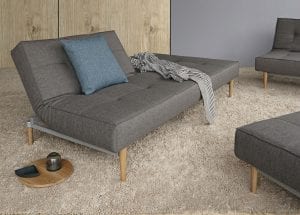 This modern Scandinavian inspired sofa bed is aptly named for its two independently folding backrests. The Splitback converts effortlessly in to a king single sofa bed using a clic-clac mechanism, making it the perfect versatile sofa bed for a multifunctional interior space.
The Splitback sofa beds to buy online are available in 501 Begum Sand and 502 Begum Olive from our Innovation Fabrics range.
Measurements as sofa:
Width: 210 cm
Depth: 95 cm
Measurements as SofaBed:
Width: 210 cm
Depth: 115 cm
Puzzle Wood King Single Sofa Bed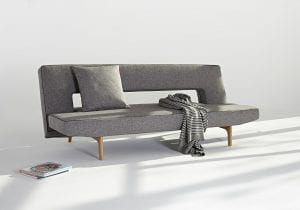 The Puzzle Wood Sofa Bed is one of our most attractive examples of modern Scandinavian furniture, guaranteed to be the talking point of any interior space. This elegant Danish designed sofa bed combines the traditional combination of style, comfort and functionality, easily folding back into three adjustable positions. A stylish and minimalistic design for guest or living rooms.
You can buy Puzzle Wood Sofa Beds online in Mixed Dance Light Blue and Mixed Dance Grey from our range of Innovation Fabrics.
Measurements as sofa:
Width: 200 cm
Depth: 96 cm
Measurements as SofaBed
Width: 200 cm
Depth: 110 cm
For further information or queries about any of our 3 Danish designed Sofa Beds available to buy online, please contact us today!