Pre-Christmas September Savings
Christmas has come early at Innovation Sofa Beds Melbourne, with a massive 20% off custom orders – available from both of our centrally-located showrooms in Richmond and Carlton.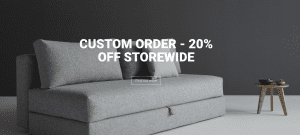 During the month of September, you'll have exclusive access to incredible savings across our broad range of Danish-designed sofas daybeds and multi-functional sofa beds online. Plus, you'll be able to customise your dream sofa by hand-selecting any one of our exclusive Innovation fabrics and colours, ensuring your new piece is 100% you!
How Can You Get Your Custom Sofa Bed Delivered Before Christmas?
Christmas is a time for celebrating, which inevitably means entertaining. During this time, you'll probably want your home to look its best, which means having your newly-designed Danish sofa bed sitting front and centre in your living room or guest bedroom.
This year, we'll be running from strict order cut off dates to ensure you receive your beautiful new piece of furniture in time for Christmas. This is because designing your custom sofa takes some time, and we want to make sure each item you order is exactly what you envisioned it to be.
Our 2017 cut-off dates are as follows:
September 18th: Cut-off for guaranteed pre-Christmas delivery.
September 29th: We will endeavour to have your order delivered by Christmas, however we can't guarantee pre-Christmas delivery.
Please note:
Any orders placed after this date might be subject to a slightly longer lead-time of roughly 14-16 weeks. This is because of closures and public holidays over the Christmas and New Year period.
To buy yourself a special Christmas gift, jump online or visit Innovation Sofa Beds Melbourne at either our Richmond or Carlton-based showroom.