Innovation Sofa Beds Melbourne: A World of Options
Have you seen a particular sofa bed at one of our Melbourne showrooms and think it's great, but it's not quite right for your space?
We understand how tricky it is to find the perfect sofa bed, which is why our range hasn't been designed with a 'one-size-fits-all' kind of approach. You can mix up the type of fabric used, the colour of your piece and even with or without arms.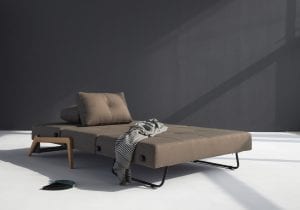 Different Sizes
You might have a tight space and can only fit in a single-sized sofa bed, or maybe you want to put a spacious queen-sized sofa bed in your spare room that you can use as a couch when people aren't staying over.
A selection of our premium Scandinavian-designed furniture is available in multiple sizes. For instance, the 'Cubed' sofa bed can be purchased in three size options, including single, double and queen. It also has various leg options including chrome, black, oak or dark oak.
Whatever your needs, our large range of Innovation sofa beds will meet them.
Different Fabrics
To ensure your sofa bed perfectly complements your space, make sure you think carefully about what type of fabric you would like to have. With samples available in a number of different colours and textures, there really is something for everyone! Our colour selection ranges from royal blue to sandstone, with twisted weaves, leather-look finishes and even a signature wild flower pattern if you're after something a little bolder.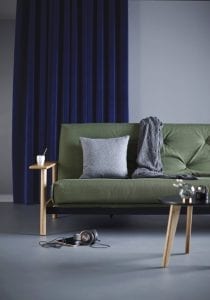 Different Arms and Legs
Have you ever wondered why some of our sofa beds look eerily similar? Well, that's because they are! For example, our Aslak, Mimer and Balder are the same bed in every way except for their arms and legs.
Some of our sofas come with sleek wooden arms, while others come with fabric upholstered arms. The same goes for our sofa bed legs. Some come in black, while others come in different types of timber.
This versatility will help make matching your furniture to your home's décor easier than ever.
Different Comfort
Another element of our sofa bed designs that can be customised is the seating cushions. For instance, add a pillow-top to our Splitback and it becomes the Dublexo. Want extra softness while sleeping? We also have premium mattress toppers for all of our sofa bed sizes.
If you're looking for the perfect sofa bed for your home, come and visit the team at Innovation in our Carlton or Richmond showrooms, or browse our product selection online.