Innovation Living Sofa Beds: As Seen in Real Living Magazine
Innovation Living Sofa Beds was thrilled to have our Dublexo sofa bed featured in Real Living magazine's June feature on tapestry weaver, Haily Tran's two-bedroom Melbourne apartment.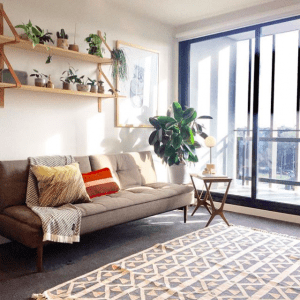 The sofa bed forms a vital part of the apartment's urban oasis style, perfectly complementing the natural colour scheme and lush greenery that is scattered throughout the near new Collingwood home.
The dublexo is perfect for smaller apartments. With a relatively compact footprint and sleek design, the dublexo effortlessly converts into a king single sized bed. For larger spaces, the dublexo can come with an upholstered arm or the ever popular Frej oak arm.
As one of Australia's leading home design and living publications, we couldn't be happier to have one of our premium custom-made sofas pictured in their June 2017 magazine. You can read the article, here!
To view our contemporary selection of sofa beds, jump online today, or come in and visit us at one of our centrally located showrooms in Carlton North or Richmond.