Buying and Selling: How New Furniture Can Improve Your Home's Aesthetic
Are you looking at selling your home? If you are, making your interior look as good as possible will be high up on your list of priorities.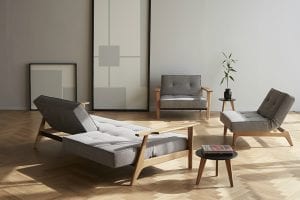 For instance, when you walk into a display home and you look at the house and the way it's been decorated, you instantly think, wow, I wish this were my house. Would you still have that overwhelming impression if the house were empty or poorly decorated? Probably not.
This is because the right furniture and décor can make even the plainest house look ten times better. However, there are a few things you'll need to consider when purchasing furniture for market appeal. These include:
What's trending at the moment?
What suits the aesthetic of your home?
Can the piece be used in more than one room? For instance, can you visualise using it in a spare room, as well as potentially a living room?
One of the big things homebuyers are looking for when they go to open for inspections is a house they can visualise themselves living in. This doesn't just mean they're looking at the kitchen and how big the backyard is, they're also trying to imagine what they can do with the space. If they like your furniture and the way you have styled your home, they'll be more likely to visualise the space as theirs.
On the other side of the spectrum, if you don't want to buy new furniture before you leave your old house, getting new sofas and furniture for your new home can make a world of difference.
There's nothing worse than purchasing a beautiful new home, only to fill it with the furniture you chose for your old home that's now old, and not quite the right fit for your new home.
Some of the things you'll need to consider when decorating a new house are:
Colour scheme. What fabric colours and textures will suit the space you're moving into?
The sofa beds and sofas you have at the moment might be too big or too small for the space you want to use them.
How old is your current furniture? If you're moving into a brand new home with a modern aesthetic, older style furniture will quickly date the space, and decrease its visual appeal.
What style will suit your new space? Our Danish-designed sofas are perfect because they can suit a range of interiors with their sleek simplicity.
Whether you're re-decorating your current home, trying to make it look incredible so you can increase its re-sale value, or you have just purchased a new home and want new furniture to go with it, make sure you visit Innovation Sofa Beds at one of our centrally-located showrooms.
SHOWROOM OPENING HOURS
619-623 Bridge Road
Richmond
VIC 3121
Phone: 03 8679 5480
MON – SUN 10AM-5PM
264 Rathdowne St
Carlton North
VIC 3054
Phone: 03 8679 5484
MON – SAT 10AM-5PM
SUN 11AM-5PM