Sale!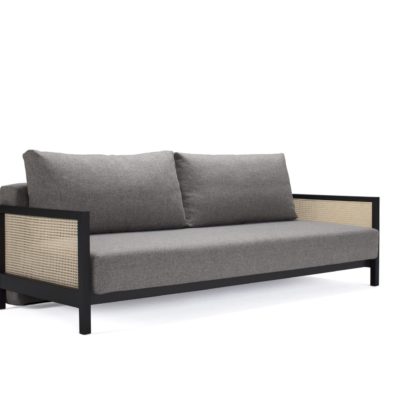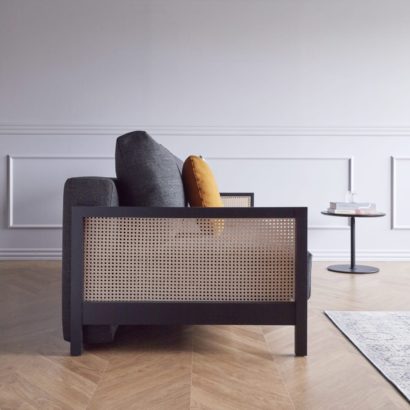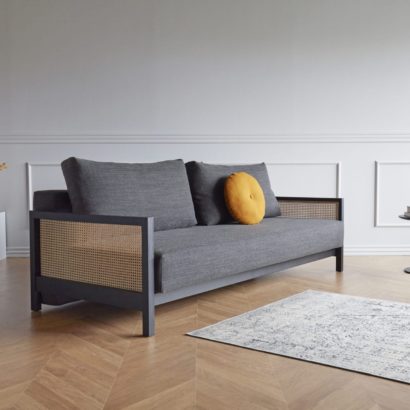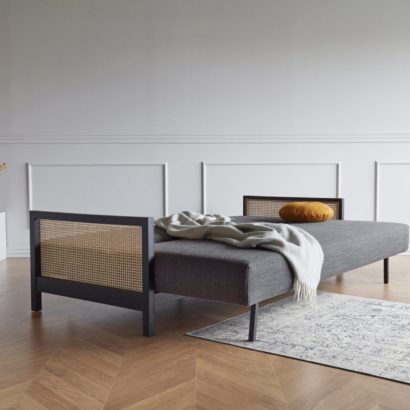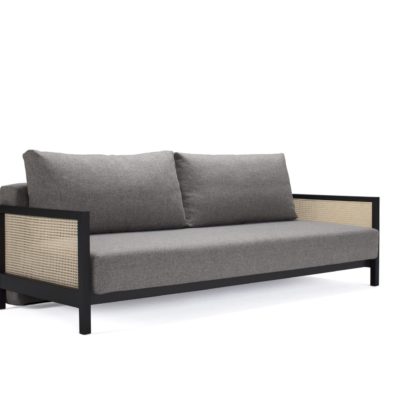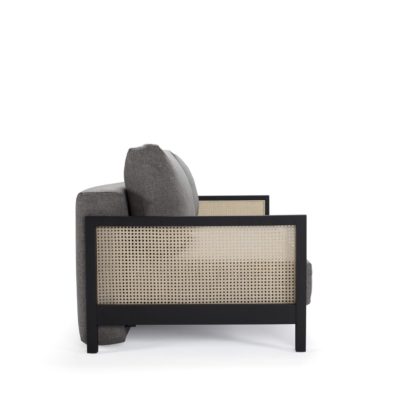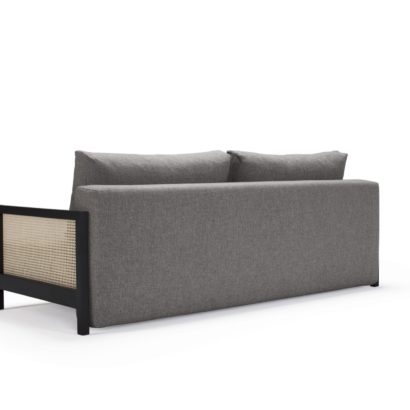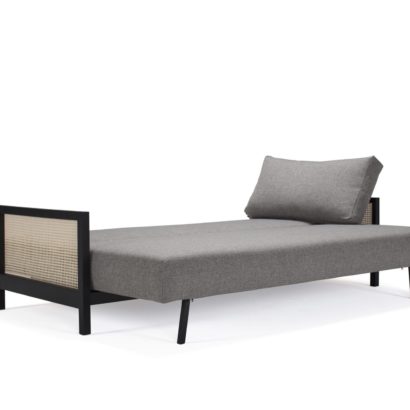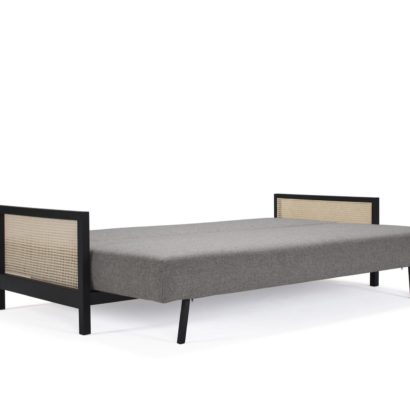 SOFA
Sofa Depth      94 cm
Sofa Width      210 cm
Sofa Height     72 cm
Seat Depth      52 cm
Seat Height     38 cm
Arm Height      55 cm
---
  DOUBLE BED
Bed Width           140 cm
Bed Length         200 cm
Bed Height         38 cm
---
   KEY FEATURES
Features          ✓  Arms
.                         ✓  Back cushions
.                         ✓  Bedding sling
Frame                   Matte Black Frame
Arms                     Cane Web Arms
Legs                       Black Stained Wood
Comfort              Pocket Spring
Fashion and trends are said to be cyclical. And rightfully so. In later years we have seen design reintroducing and incorporating French cane webbing. This has inspired us to create the Narvi. Narvi is designed to be simple, elegant, and timeless while fitting in a multitude of stylistic interiors.
Narvi possesses a pocket spring mattress and a pair of soft back cushions providing high comfort. The integrated art form gives an upgraded lounge effect as the strong metal frame reinforces the flexibility of Narvi operating as sofa, lounger or bed. Use the crafty lock mechanism that are neatly hidden underneath the seat to have a 140 x 200 bed size.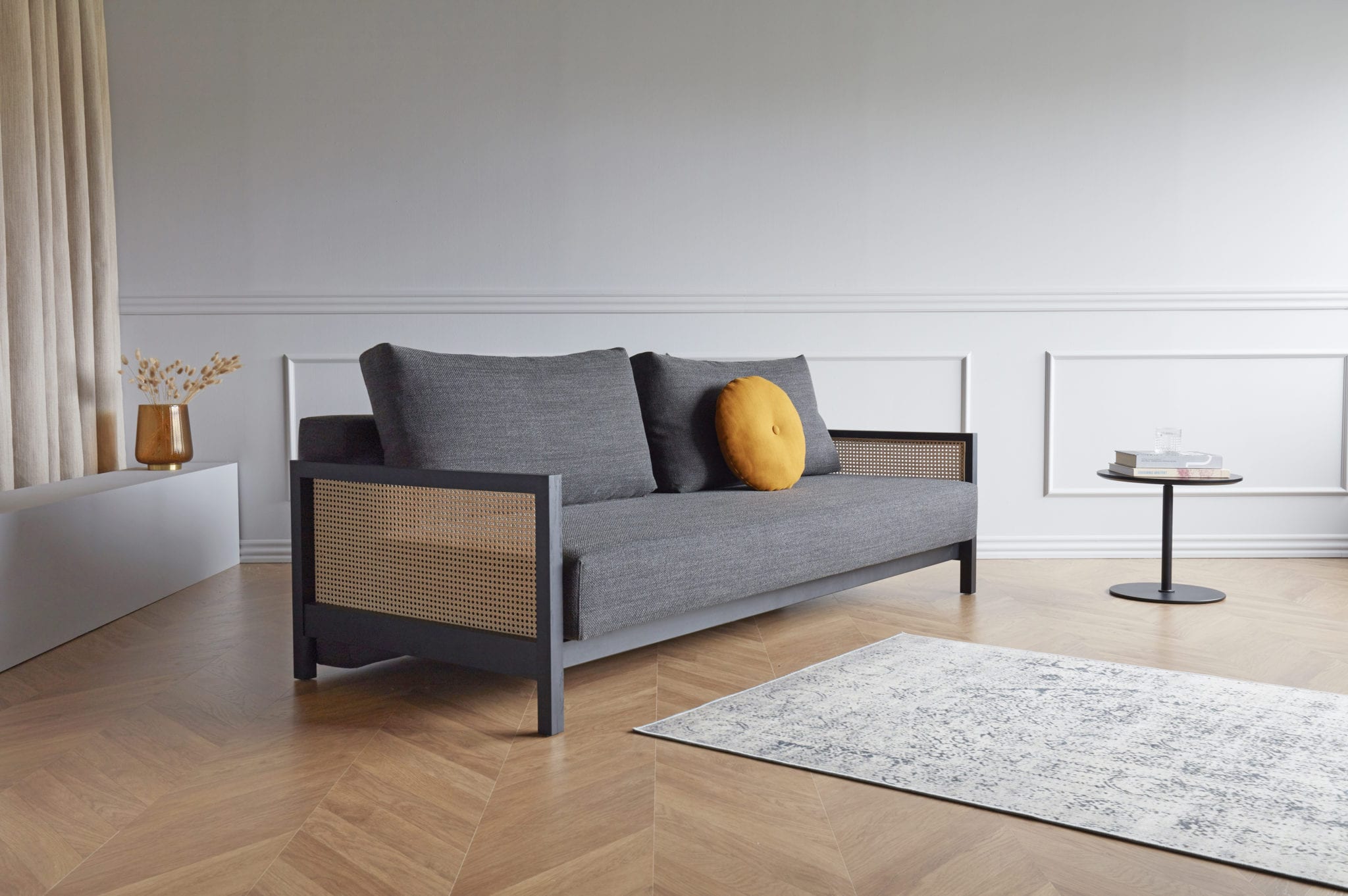 | | |
| --- | --- |
| Fabric | 000 FABRIC TBC, 216 FLASHTEX DARK GREY, 217 FLASHTEX LIGHT GREY, 316 CORDUFINE PINE GREEN, 317 CORDUFINE RUST, 318 CORDUFINE BEIGE, 461 LEATHER LOOK VINTAGE BROWN, 506 ELEGANCE PAPRIKA, 507 ELEGANCE BURNED CURRY, 509 ELEGANCE ANTHRACITE, 514 NIST BLACK, 515 NIST BLUE, 517 ELEGANCE LIGHT GREY, 518 ELEGANCE GREEN, 519 ELEGANCE PETROL, 521 MIXED DANCE GREY, 525 MIXED DANCE LIGHT BLUE, 527 MIXED DANCE NATURAL, 528 MIXED DANCE BLUE, 531 BOUCLÉ OFF WHITE, 533 BOUCLÉ ASH GREY, 534 BOUCLÉ BLACK RAVEN, 541 VELVET DARK BLUE, 544 VELVET BRICK RED, 547 VELVET ARMY, 550 FAUNAL BLACK, 551 LEATHER LOOK FAUNAL BROWN, 552 SOFT PACIFIC PEARL, 554 SOFT MUSTARD FLOWER, 557 SOFT CORAL, 558 SOFT INDIGO, 563 TWIST CHARCOAL, 565 TWIST GRANITE, 570 VIVUS DUSTY CORAL, 571 VIVUS DUSTY SAND, 572 VIVUS DUSTY GREY, 573 VIVUS DUSTY BLUE, 576 KENYA BORDEAUX, 577 KENYA DARK GREY, 578 KENYA TAUPE, 579 KENYA GRAVEL, 586 PHOBOS LATTE, 587 PHOBOS MOCHA, 590 MICROCHECK GREY, 595 CORDUROY BURNT ORANGE, 612 LINEN SAND |
| Cover Style | Deluxe, Dual Pillowtop, Sleek |
| Bed Size | Double |