Sale!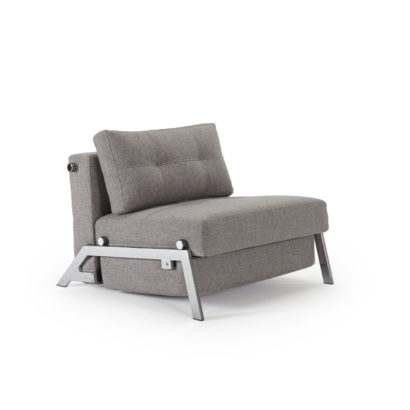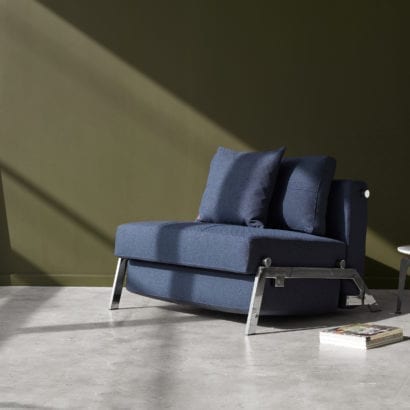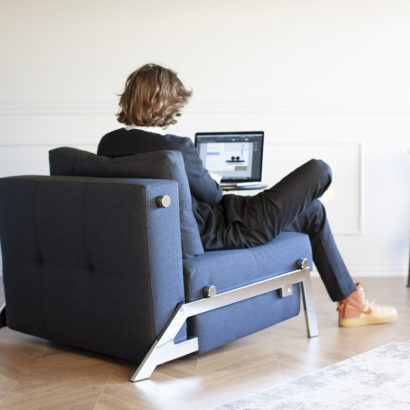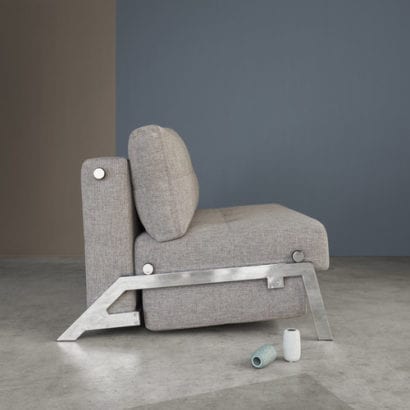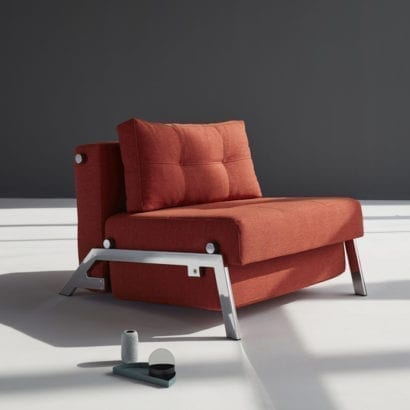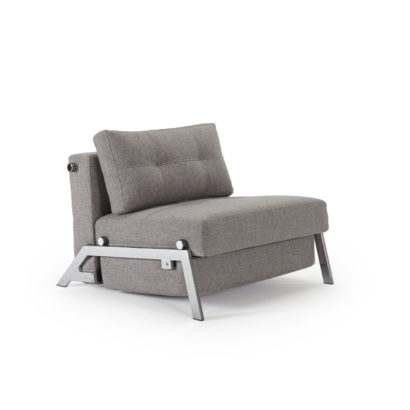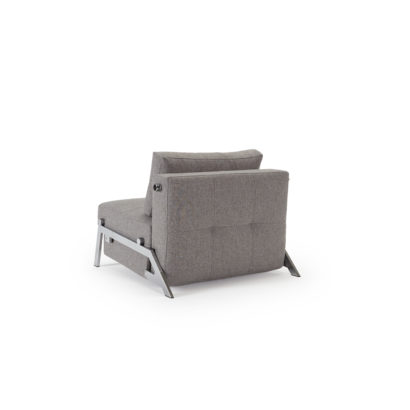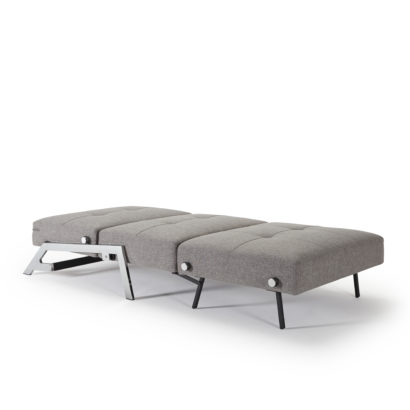 Cubed 90 Chrome
$2,389.00 inc GST
Compare


A compact single sofa for small living. Custom orders may take approximately 16-20 weeks for delivery.
  SOFA
Sofa Depth      103 cm
Sofa Width      95 cm
Sofa Height     79 cm
Seat Depth      51 cm
Seat Height     46 cm
---
  SINGLE BED
Bed Width           90 cm
Bed Length         200 cm
Bed Height          38 cm
---
   KEY FEATURES
Features         ✓  Back cushions (included)
.                        ✓ Auto-fold legs
.                        ✓  5 year warranty on steel frame
.                        ✓  Lifetime warranty on mechanism
Frame                  Matte Black Frame
Legs                 Chrome
Comfort              No Zag Spring
Living large in small spaces. The Cubed Wood is the perfect piece for urban living due to its space optimising design and multi functional benefits. New Nordic inspired oak legs give the Cubed Wood sofa bed stylish sophistication. Folding out in to the room, the Cubed 90 is a small single chair and with a an easily folded out single bed perfect for apartment-style living areas. The Cubed sofa has become one of the most popular designs from the Innovation Living range.
The Cubed single sofa bed is a multi functional sofa bed equipped with Innovation sprung base and chrome legs.
Comprising of a solid timber frame, the Cubed 90 single sofa bed is durable, strong and stylish.
Price may vary dependent on fabric chosen. Custom orders may take approximately 16-20 weeks for delivery.
Contact Innovation Living Melbourne, to enquire about stock availability .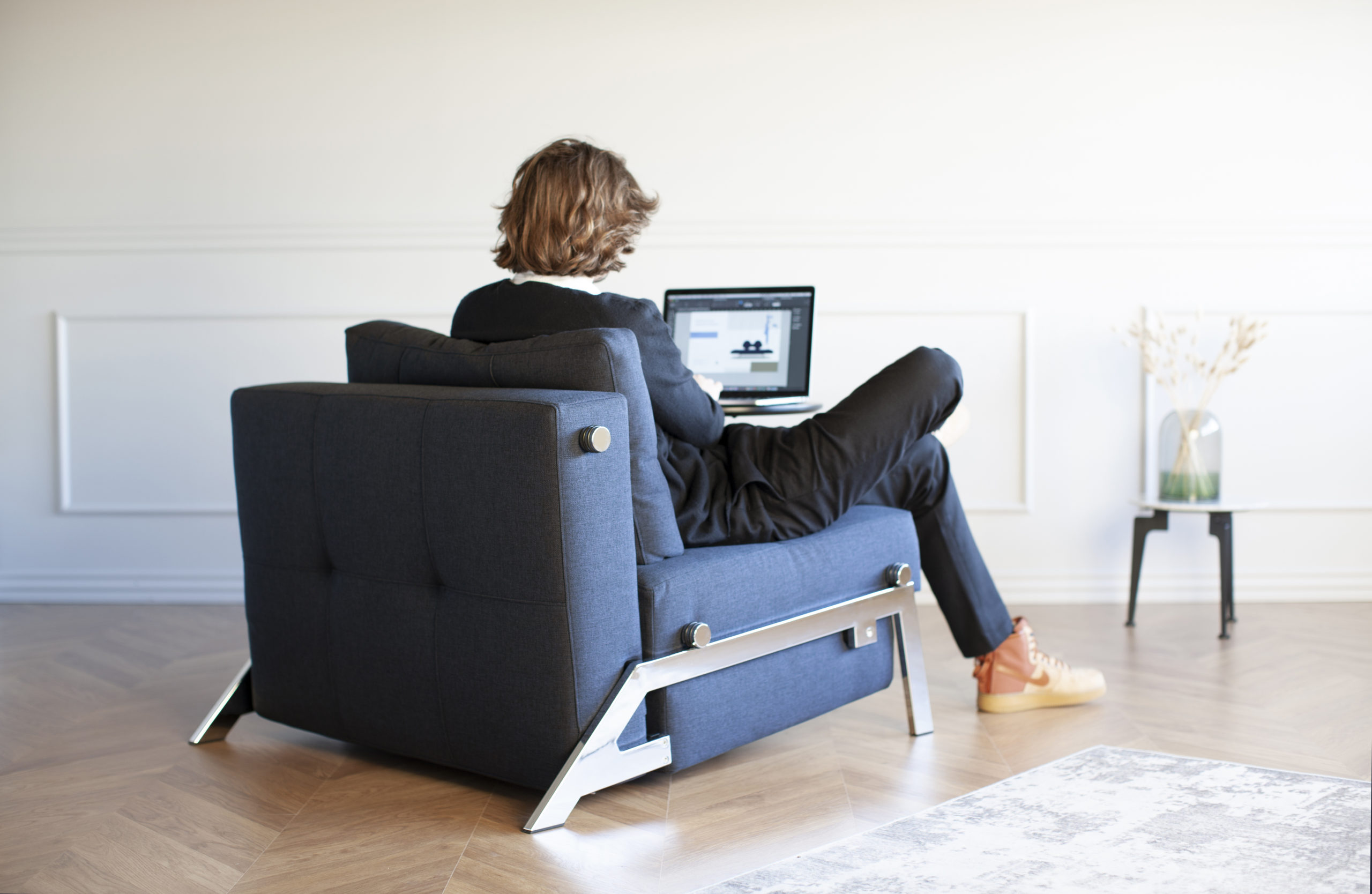 | | |
| --- | --- |
| Fabric | 000 FABRIC TBC, 216 FLASHTEX DARK GREY, 217 FLASHTEX LIGHT GREY, 316 CORDUFINE PINE GREEN, 317 CORDUFINE RUST, 318 CORDUFINE BEIGE, 461 LEATHER LOOK VINTAGE BROWN, 506 ELEGANCE PAPRIKA, 507 ELEGANCE BURNED CURRY, 509 ELEGANCE ANTHRACITE, 514 NIST BLACK, 515 NIST BLUE, 517 ELEGANCE LIGHT GREY, 518 ELEGANCE GREEN, 519 ELEGANCE PETROL, 521 MIXED DANCE GREY, 525 MIXED DANCE LIGHT BLUE, 527 MIXED DANCE NATURAL, 528 MIXED DANCE BLUE, 531 BOUCLÉ OFF WHITE, 533 BOUCLÉ ASH GREY, 534 BOUCLÉ BLACK RAVEN, 541 VELVET DARK BLUE, 544 VELVET BRICK RED, 547 VELVET ARMY, 550 FAUNAL BLACK, 551 LEATHER LOOK FAUNAL BROWN, 552 SOFT PACIFIC PEARL, 554 SOFT MUSTARD FLOWER, 557 SOFT CORAL, 558 SOFT INDIGO, 563 TWIST CHARCOAL, 565 TWIST GRANITE, 570 VIVUS DUSTY CORAL, 571 VIVUS DUSTY SAND, 572 VIVUS DUSTY GREY, 573 VIVUS DUSTY BLUE, 576 KENYA BORDEAUX, 577 KENYA DARK GREY, 578 KENYA TAUPE, 579 KENYA GRAVEL, 586 PHOBOS LATTE, 587 PHOBOS MOCHA, 590 MICROCHECK GREY, 595 CORDUROY BURNT ORANGE, 612 LINEN SAND |
| Bed Size | Single |
| Features | Compact |