At Innovation Living Melbourne, we provide a broad design range within our collection of designer Sofa Beds and Daybeds to accommodate individual purpose and preference.
Since 1989 when we first started developing classic futon concepts, the cotton-based mattress has been our area of expertise. However, as we branched out in to the development of high quality sofa beds, we directed our focus on different sofa bed mattress styles, spring types and sizes, to offer our customers exceptional sleeping and seating comfort.
This overview gives you an idea about the different types of sofa bed mattresses we can offer you.
Lifetime Warranty on Folding Mechanisms
---
We have tested our folding mechanisms and are confident that we can provide a lifetime warranty on them. meaning you will be able to fold and unfold your bed with ease for as long as you own your couch. If it doesn't withstand the general rigours of use and it hasn't been damaged outside of this, we will endeavour to fix or replace it.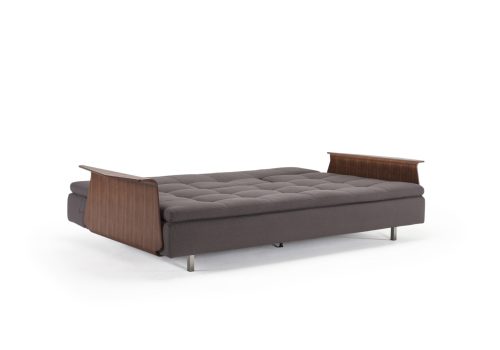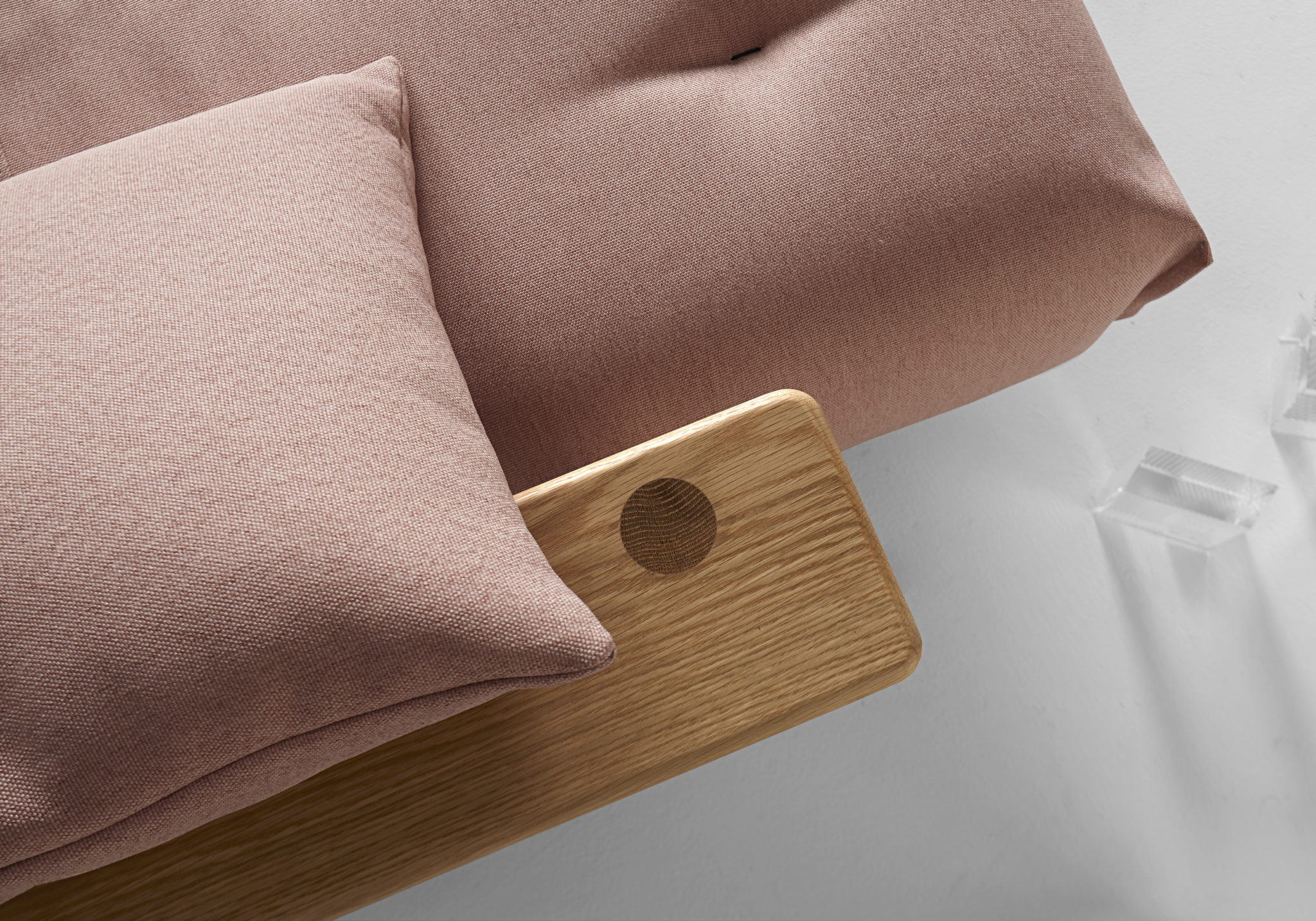 5 Year Warranty On Internal and External Frames
---
Just like our mechanisms, we are confident in the general wear and tear of our couches that we are happy to provide a 5 year warranty. Now you have peace of mind that you are buying a quality couch with premium craftsmanship. Damage due to misuse or lack of proper care and maintenance will not be covered.
Excess Pocket Spring mattress 13-16 cm
---
The higher coils in the Excess Pocket Spring models provide a softer sofa comfort. In combination with the core foam casing, the Excess mattress has higher absorption of pressure on each spring for a more comfortable sleep.
Available for: Bifrost Deluxe Excess, Cassius Deluxe Excess Lounger, Long Horn Deluxe Excess, Supremax Deluxe Excess, & Vogan.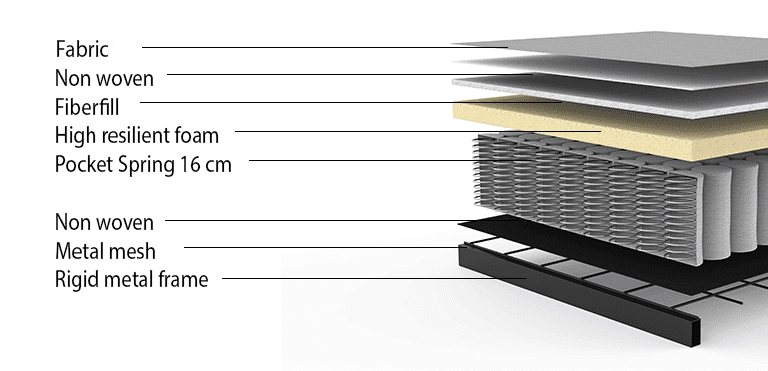 Pocket Spring mattress 6-12 cm
---
The individual pockets in these models ensure that pressure is applied to each individual spring for better support – in seating as well as sleeping position. The high resilient foam casing contributes to a breathable mattress while providing a soft top support.
Available for: All You Need, Ample, Bragi, Clubber, Eluma Deluxe Button, Frode, Ghia, Hermod, Idun, Idun Lounger, Linna, Masica, Napper, Oldschool, Osvald, Puzzle Wood, Recast, Sigmund, Splitback, Sly, Tripi, Trym, Unfurl, Unfurl Lounger, & Zeal.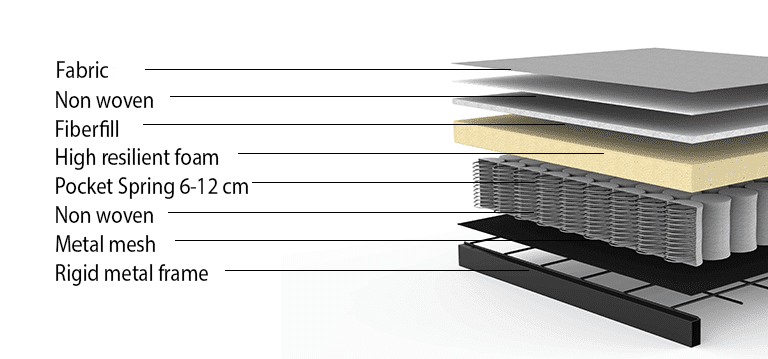 Dual Pocket Spring mattress 6-12 cm
---
The Pocket Spring Dual comfort share the general composition of the Pocket Spring models apart from the extra layer of hyper soft foam that gives these sofa beds an extra soft feel. This extra layer of luxury provides a soft seating comfort as well as a mattress recommended for everyday sleeping.
Available for: Bifrost, Cassius, Cassius Hodor, Cassius Excess Lounger, Dublexo, Eluma, Idun, Idun Lounger, Longhorn, Ran, Supremax, & Trym.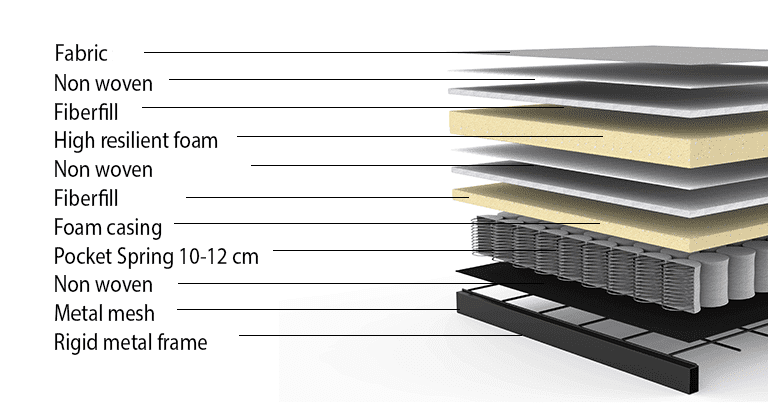 No-Zag Spring mattress
---
The No-zag Spring provides an even and soft comfort ideal for sofa seats and backrests. The thick layer of high resilient foam enhances the comfort of the spring to ensure a great sleeping experience as well.
Available for: Cubed 90-02, Cubed 140-02, & Cubed 160-02.